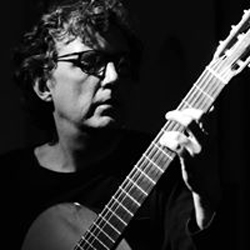 Michael Renkel: guitar, composition, electronica, video art
Born 1972 in north Germany he is based in Berlin since 1996. Renkel studied classical guitar in Hamburg. The main emphasis of his work is an interest in open methods of composition, improvisation and live electronics.
His guitar playing straddles tradition and the development of a personal language that includes extended playing techniques, performance and the preparation of the acoustic guitar. In a logical continuation he also extends the instrument via computer technology and he's the first classical guitarist who connected the instrument in realtime-live processing to the computer. The acoustc guitar is modified in a way that blurs the delineation between acoustic preparation and electronic variance.
In his works the instrumental material is altered in realtime using preparations, synthesizers, percussion instruments, toys, sequencers, and a vibraphone, the further development of this setup is his self-constructed amplified stringboard.
Renkel also works with field recordings and composes works that experiment with genetic processes via generation, mutation, hybridization and coding also video animated compositions in which the performers interpret a permanently changing score in a live situation.
Recently he has been intensively involved with jazz guitar, harmony theory and its implementation in his own concepts and projects.
As "Greekeeper in a Shadow Meadow" he also works on video projects as an actor and musician.
His Compositions are published at Verlag Neue Musik / Berlin.
"Renkel is genuinely keen to explore and discover what is possible using digital technology. All this without a trace of arrogance on his part; yet he may turn out to be a significant innovator and leader in the field. I hear few preconceived ideas on this recording; I do hear a man guided by his own inner voice, a man prepared to listen and learn." The  Sound Projector
"…creating spontaneous compositional structures, by finding musicality in non-musical sounds… there's a beguiling opposition between tone and noise… The result is an intensely musical improvised sound art, by players uncannily gifted in exact choice and fine replacement of sounds." The Wire
"one of the finest works … in the name of laptoppery and computer-assisted electronic music " The Wire
"This method – and this music – guarantees your listening delight – you sit and wait in fascination. What will come next?"      Ed Pinsent  The Sound Projector
"Michael Renkel's playing is characterized by an unbelievable finesse and differentiation."
Neue Zeitschrift für Musik
"… a scattered beat of madness, joy and sheer bedlam." The Wire
"Every note, EVERY NOTE, right where it needs to be. No redundancy … Great" Björn Dirlack
"Renkel is some kind of young genius, too, a guitarist who can be described as 'post-Bailey' " The Wire
"… using silence judiciously to frame its exquisite harmonic work and delicate flurries. Renkel is also fond of the odd crisp chord and sporadic crunches from his preparations." The Wire